BARUDAN SEWING MACHINE CO.LTD.
24-25 TAKAHATA MACHIYA CHIAKI
ICHINIMIYA-CITY AICHI JAPAN
TEL 586-77-8152
FAX 586-77-7926
Barudan Sewing Machine Co., Ltd. is a filial company of the world leading embroidery machine manufacturer,
Barudan Co., Ltd. We are the unique company in the world specialized in the towel hemming machine. Our high efficient and precise hemming machines have been always enjoying high reputation from the customers of all over the world since we achieved our first cross hemming machine almost 30 years ago.

FOUR SIDES HEMMING
WASH CLOTH
---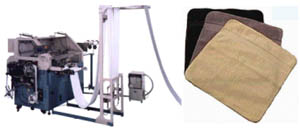 LINK to BARUDAN Co.,Ltd.
www.barudan.co.jp